From the Shelf
The Sublime Surreality of Michael DeForge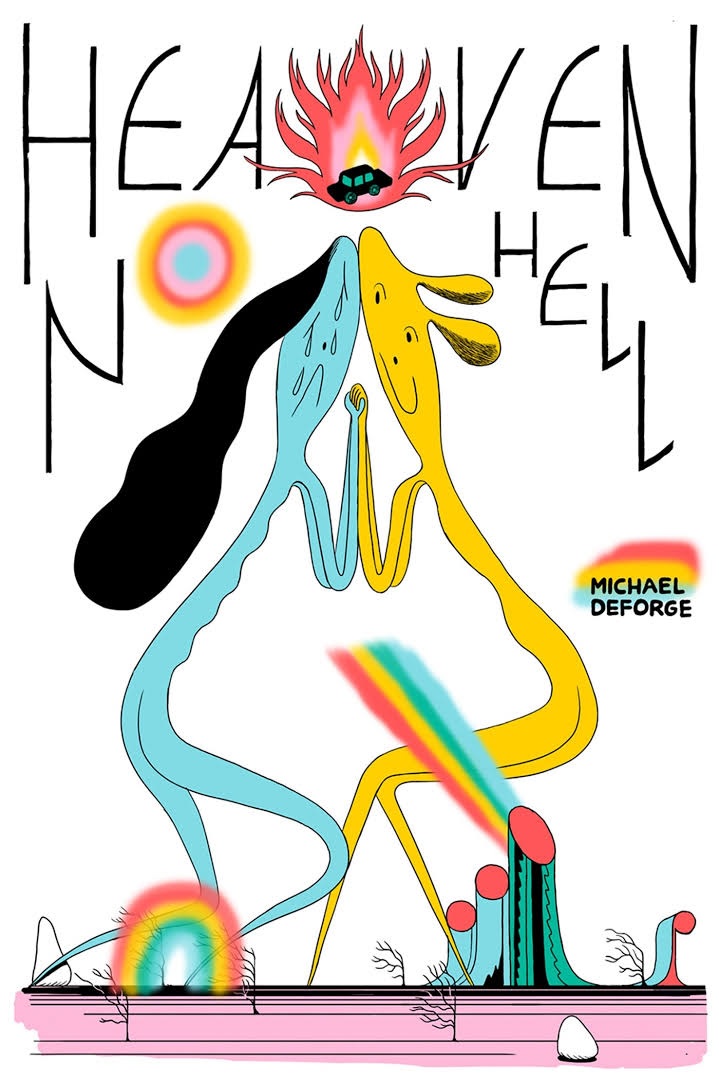 It's a rare thrill to pick up a comic book, read a page at random and feel something in the back of your mind click into place. Such was my experience with Michael DeForge's Heaven No Hell (Drawn & Quarterly, $21.99), a collection of short comics by turns incisive, surreal, unsettling and serene. The stories showcase many qualities I've come to appreciate as DeForge's signatures: the play of bold colors and geometric forms, the anarchic storytelling and offbeat humor that occasionally slip into melancholy. Strange brew, but intoxicating, stimulating; I craved more.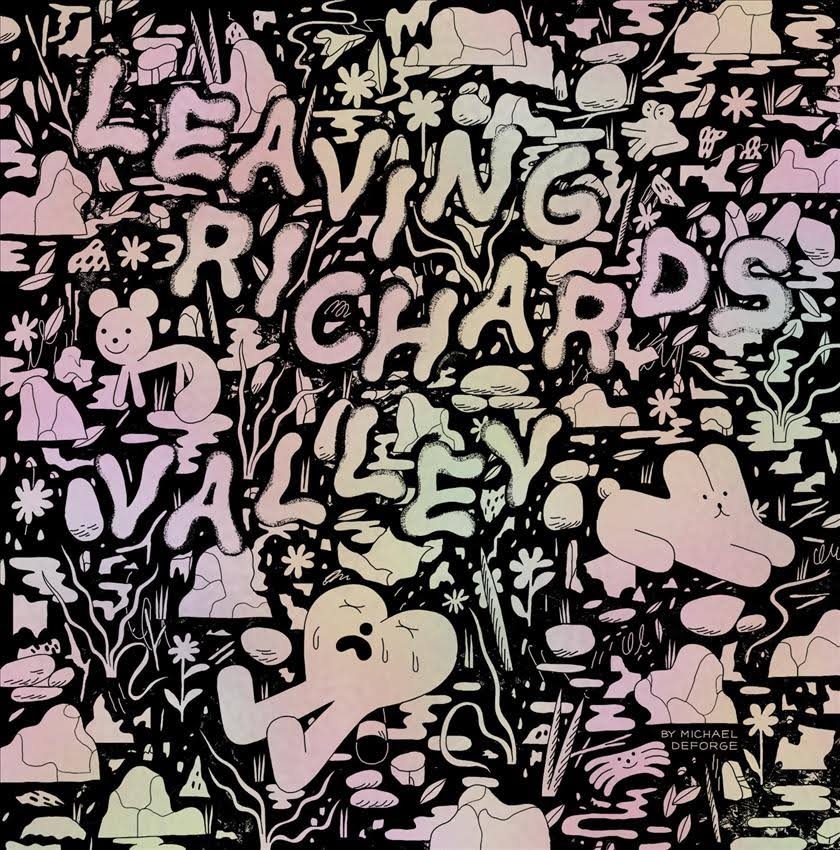 I next picked up Leaving Richard's Valley (Drawn & Quarterly, $32.95), an earlier graphic novel starring four adorable talking animals exiled from their commune by a wrathful cult leader. A veritable epic compared to Heaven No Hell, its rangy page count (just under 500) allows DeForge's worldbuilding to reach its full expression. He explores how communities form and dissolve, subcultural identity and gentrification through the story's many playful digressions.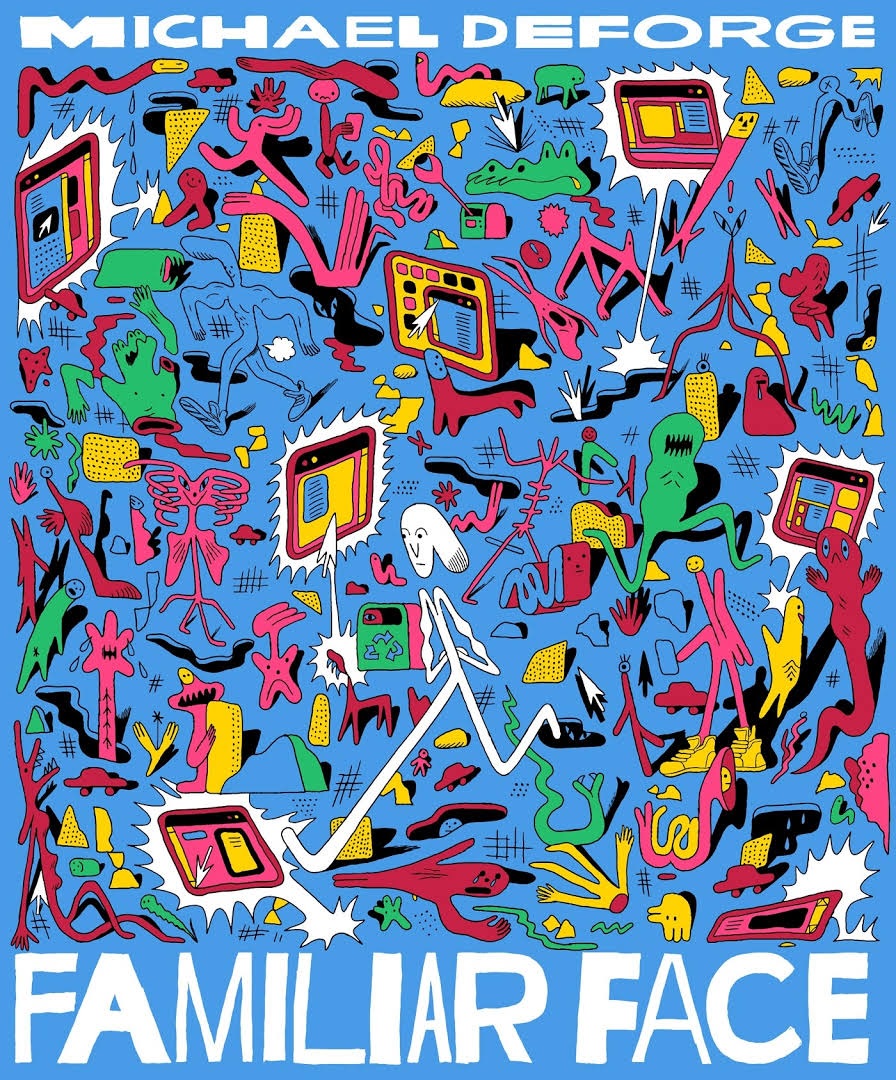 Familiar Face (Drawn & Quarterly, $21.95), the middle sibling of the above titles, is a lonely sci-fi tale set in a future wherein everything--city streets, human bodies--is subject to frequent, arbitrary "updates." When one such update separates our protagonist from her girlfriend, she seeks out an underground cell of radical cartographers in hopes of repairing the disruption. This, to me, is DeForge at his most trenchant and affecting: utopia and dystopia are practically indistinguishable; technology accelerates the sensation of change while the dance of exploitation and resistance carries on.
Like the semi-abstract shapes dappling his compositions, DeForge's ideas can morph into seemingly endless arrangements. It's no surprise, then, that he is famously prolific. This is great news, as it permits me the two chief pleasures of "discovering" an artist with an extensive catalogue: to dig deeply and to proselytize with the zeal of the newly converted. --Theo Henderson, Ravenna Third Place Books in Seattle, Wash.

In this Issue...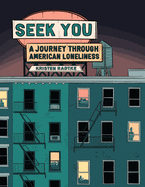 Kristen Radtke's extraordinary new graphic memoir intricately examines loneliness through personal, social, scientific, historical and contemporary lenses.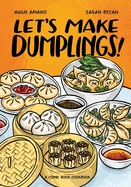 by Hugh Amano , Sarah Becan
A can-do step-by-step guide for cooking delectable savory and sweet dumplings in graphic novel form, from the creators of Let's Make Ramen!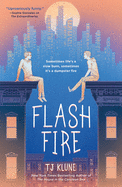 This entertaining contemporary fantasy weaves sweet queer high school relationships and suspenseful superhero action.
Review by Subjects:
Fiction ⋅ Mystery & Thriller ⋅ Science Fiction & Fantasy ⋅ Graphic Books ⋅ Science ⋅ Performing Arts ⋅ Children's & Young Adult

Book Candy
10 Facts About DC Comics
The rights to Superman were bought for $130. Mental Floss shared "10 fun facts about DC Comics."
---
More! Dickens, Oliver Twist and Stories of the City, on display at London's Charles Dickens Museum, is a celebration of the author's most popular tale.
---
"Discover Japan's oldest surviving cookbook Ryori Monogatari (1643)," Open Culture suggested.
---
The CBC recommended "35 Canadian books to check out in summer 2021."
---
"Sculptures that make novel use of books" were showcased by the Guardian.

Great Reads
Rediscover: Maus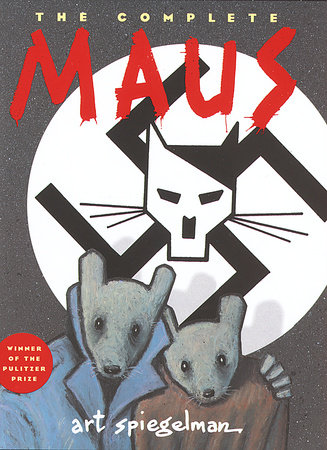 This August marks the 35th anniversary of Art Spiegelman's Maus, which is as much a publishing industry landmark as it is a reminder of the evils of Nazism. Maus helped transform mainstream opinion of the graphic novel from "mere" comic book to serious work of art. In the book, Spiegelman uses anthropomorphic animals--Jews as mice, Germans as cats and Poles as pigs--to tell the story of his parents during the Holocaust. In 1992, Maus became the first graphic novel to win a Pulitzer Prize. In 1996, Pantheon published The Complete Maus: A Survivor's Tale ($35), and in 2011, it published MetaMaus, a behind-the-scenes look at the making of Maus with a supplementary DVD ($35).
In an interview from 2008 about the 30th anniversary edition of Breakdowns: Portrait of the Artist as a Young %@&*! (Pantheon), Spiegelman said, "I can't control the entire outside world and make the political reality better. But it seems that all of the stuff I dreamed about comics back in the '70s is now a done deal. It's sort of like living in some kind of Philip K. Dick-land.... In Maus, I was spinning all those lessons I'd learned in the Breakdowns scripts in reverse to make you fluidly enter, so if you didn't want to, you didn't notice you were reading a comic after about the first few pages."
Classic Tales as Graphic Novels
Graphic novel versions can make classic novels more approachable for all ages. The illustrations often expand plots and descriptions. Here are a few of our favorites.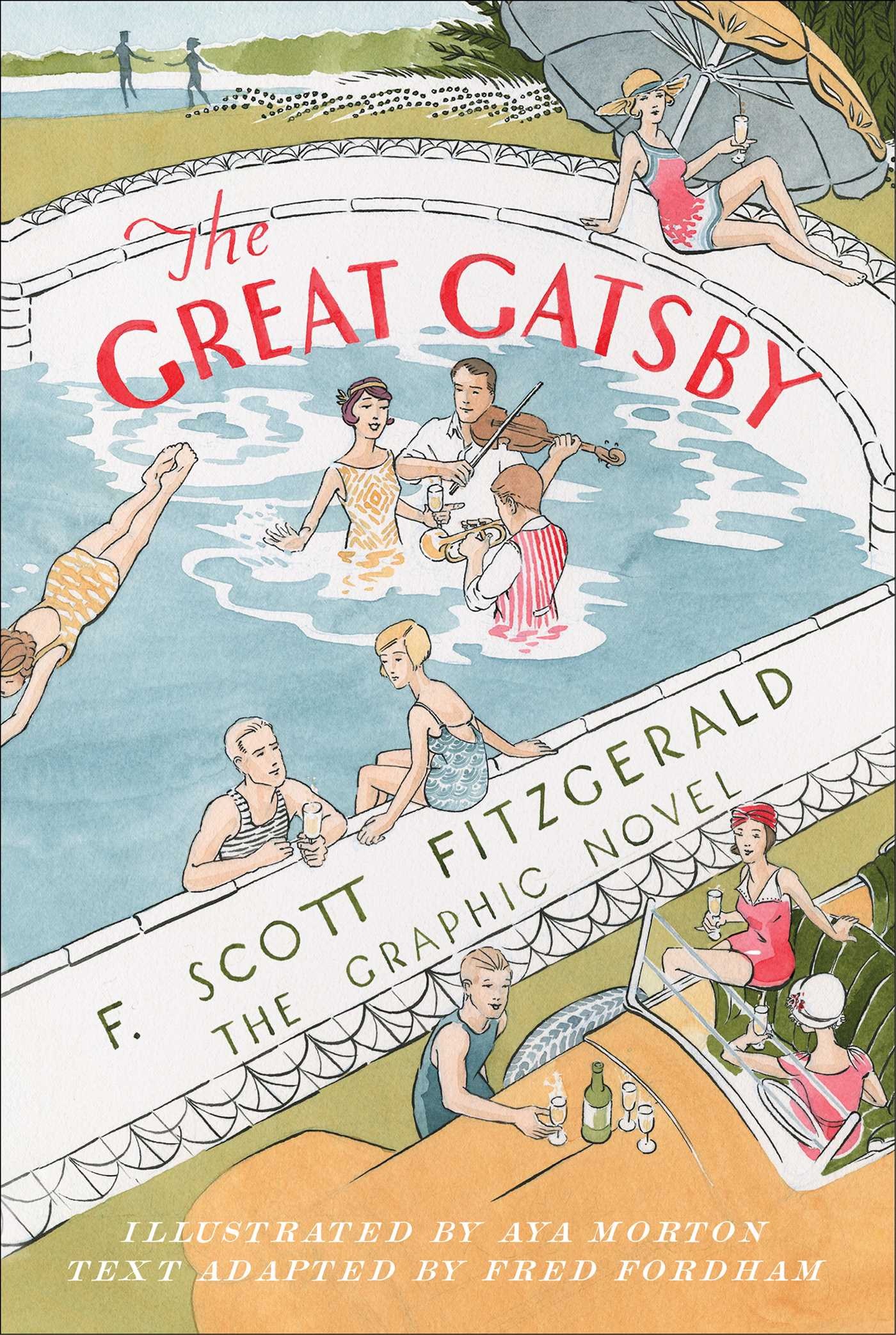 For those who wish they could step into a time machine to the Jazz Age and for lovers of the classic American story about a tragic love and the false panacea of consumer goods, pick up the graphic novel edition of The Great Gatsby by F. Scott Fitzgerald, adapted by Fred Fordham, illustrated by Aya Morton (Scribner, $30).
The Great Gatsby continues to be an English class mainstay in American high schools, a text that many, even self-proclaimed "non-readers," look upon fondly. Fred Fordham, who adapted Harper Lee's To Kill a Mockingbird, teamed up with illustrator Aya Morton to re-create the classic novel for Scribner, Fitzgerald's original publisher. In a pale color palette that evokes the moneyed, halcyon summers of Long Island, and with art deco-inspired drawings, Morton welcomes readers back into a familiar text.
Jay Gatsby, Nick Carraway and Tom Buchanan appear in three-piece suits when they are out on the town or attending a party, and tennis shorts when they are spending a leisurely afternoon on their sprawling properties. Daisy Buchanan and Jordan Baker, in pearls and long, slinky gowns, spend their days with wine in hand. Morton's eye for fashion and interior decor aids the reader in becoming fully immersed in the era, while Fordham's economical reworking of the original text reflects a deep intimacy with Fitzgerald's work.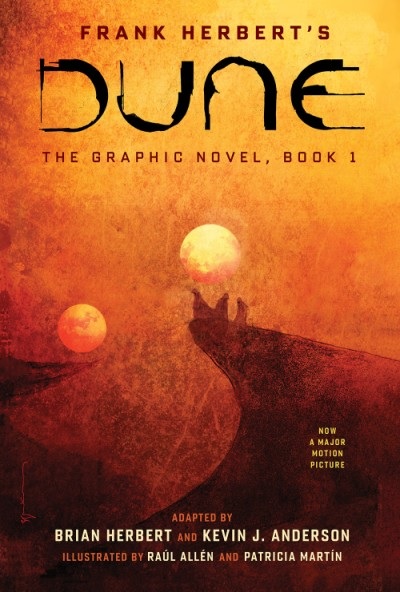 Collaborators Brian Herbert and Kevin J. Anderson have written multiple books in the distinctive universe of Frank Herbert's science fiction classic Dune. With their Dune: The Graphic Novel, Book 1, illustrated by Raúl Allén, Patricia Martín and Bill Sienkiewicz (Abrams ComicArts, $24.99), Herbert and Anderson join forces again with the aim of adapting the beloved novel while staying within the bounds of the original Dune canon. Although the duo says they weren't interested in adding their own "special stamp" to the story, the nature of graphically adapting a classic, especially one as complex as Dune, requires a keen editorial eye in selecting the right text to tell the story and capture the atmosphere. Most importantly, a graphic adaptation also requires passing half of the burden of worldbuilding to the illustrators, who in this case must translate a novel that lives in the imaginations of so many.
The first entry in a planned three-part adaptation, Dune translates the part of the original Dune that is primarily exposition. The slow plotting and rumination that make up much of this first adaptation provide an excellent opportunity to fill in all of the extraordinary details of this space opera through illustrations of the sandworms, the armor and robes, and the Sardaukar. With serene blues for the planet of Caladan and stunning sulphurous neons for Arrakis, veteran illustrators Allén and Martín aid the reader in understanding the vastness of this world. With Denis Villeneuve's star-studded Dune film adaptation coming this fall, this graphic novel is a visually compelling entry point into Frank Herbert's famed universe.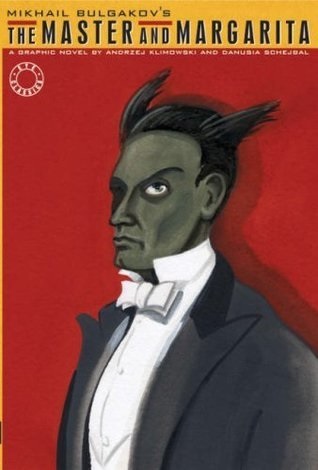 In Mikhail Bulgakov's cult classic The Master and Margarita (SelfMadeHero, $24.99), a smooth-talking devil and his acolytes--the naked vampire-witch Hella, the rotund and fedora-clad Azazello and the talking black cat Behemoth--parade around Moscow during the Stalinist period, systematically sowing chaos and unmasking the follies of Muscovites. Adapters and artists Andrzej Klimowski and Danusia Schejbal capture the dark and mischievous spirit of The Master and Margarita in the text they pull from the novel, but it is the illustrations that animate this adaptation.
This version, like the original novel, weaves the Jesus-like tale of Yeshua Ha-Notsri into a contemporary Moscow timeline. The features of the characters are rich in detail, the texture of Ha-Notsri's beard and the discoloration around his eyes almost lifelike. The skies are blue and open, despite the injustices that occur beneath them. To contrast, most of the sections that depict Moscow are in black and white. They are more impressionistic, the features of these characters are more vague and occasionally caricatured. The city appears claustrophobic, reflecting the shallow ideologies beneath the veneer of intellectualism and consumption in 1930s Moscow. For readers who have already read this classic satire, the impressive visual sensibilities of Andrzej Klimowski and Danusia Schejbal create a worthy graphic companion.
In a creative melding of adaptation and biography, Isabel Greenberg illustrates the Brontë siblings' juvenilia alongside the real events of their childhoods in Glass Town: The Imaginary World of the Brontës (Abrams ComicArts, $24.99). Readers are granted a view of the young Brontës' lives that reflects the tragedy and mundanity of their shared childhood, but also demonstrates the means by which they imagine themselves into other worlds.
With pens, ink vials and paper, Branwell, Charlotte, Emily and Anne sit by their fireplace plotting, debating and dreaming in acts of collective imagination. They transform the vast English moors surrounding their home into Gondal, Angria and Glass Town. They populate their fictional landscape with characters like Zamorna, Lord Northangerland, Mary Percy and Quashia Quamina, each with their own rich history and narrative function. The dramas that unfold in Glass Town--stories of courtship, love, war and deception--are grand, inchoate products of pure childhood imagination. The lush fictional worlds that the young Brontës conjure together become as real to them as their waking worlds and follow them well into adulthood. Greenberg's illustrations, in deep purples and reds, are as moody and dreamlike as the Brontë canon. With this humane and enchanting portrait of Yorkshire's most prominent literary siblings, Greenberg secures her place among extraordinary talents in contemporary comics. --Emma Levy

Book Reviews
Fiction
Bloomsbury, $24, hardcover, 160p., 9781635577334
McSweeney's, $26, hardcover, 250p., 9781952119170
Mystery & Thriller
Putnam, $27, hardcover, 416p., 9780593328392
Science Fiction & Fantasy
Tor, $27.99, hardcover, 416p., 9781250621801
Redhook, $28, hardcover, 512p., 9780316459143
Graphic Books

Ten Speed Press, $19.99, paperback, 208p., 9781984858757

Pantheon, $30, hardcover, 352p., 9781524748067
Drawn & Quarterly, $21.95, paperback, 100p., 9781770464643
Science
Experiment, $24.95, hardcover, 224p., 9781615197521
Performing Arts
St. Martin's Press, $29.99, hardcover, 576p., 9781250236876
Children's & Young Adult

Tor Teen, $18.99, hardcover, 384p., ages 13-up, 9781250203687
Etch/HMH Books for Young Readers, $24.99, hardcover, 240p., ages 8-12, 9780358168997
--- SPECIAL ADVERTORIAL OFFERINGS ---

Gitty and Kvetch

by Caroline Kusin Pritchard, illus. by Ariel Landy

Dear Reader,

When I think about my own Jewish identity, I'm transported back to my grandparents' living room. I can still hear my effervescent Poppy gushing about everything from the weather to my finger paintings, while Bubby rolled her eyes with a smile and peppered in an exasperated "Oy vey..."

It's this spirit of wide-eyed enthusiasm and connection--with a dash of playful curmudgeonliness--that I hoped to capture with GITTY AND KVETCH. Glass-half full Gitty is set on schlepping her bird friend along for yet another adventure. As much as Gitty wants the day to be just perfect, Kvetch knows better.

There are so few picture books that engage Jewish themes outside of holidays and food. I hope this story will help add to the conversation in a way that is accessible and joy-filled. It's meant to have all kids laughing and shouting out Yiddish to their heart's content. And just wait until they discover the twist ending :)

Enjoy,
Caroline Kusin Pritchard
https://carolinekusinpritchard.com






PUBLISHER:
Athenuem Books for Young Readers

PUB DATE:
September 14, 2021

ISBN:
9781534478268

TYPE OF BOOK:
Picture Book

AGE RANGE:
4-8

PRICE:
$17.99

---